Monthly Meetings
The Friends of Silverbrook Cemetery meet the third Thursday each month at 7 p.m. at the Niles Law Enforcement Complex, located at Main St and Silverbrook Ave.
In addition to discussing progress made with our restoration and education projects, we feature a Guest Speaker. Past speakers have given talks about the history of Niles, gravestone restoration, and biographies of leading citizens. Many of our members also have interests in genealogy and local history. Members, nonmembers, and guests are always welcome to attend at no cost.
Details

Published: April 13, 2017

April 13, 2017
The Friends of Silverbrook Cemetery annual open house will be held on Thursday, April 20th from 6 – 8 p.m. at the Law Enforcement Complex, 1600 Silverbrook Ave. in Niles.
Guest Speaker: Caryn Adler of Niles will give a presentation on "The Dash Between the Dates."
Refreshments will be served. All are welcome to attend, bring a friend!
Details

Published: March 17, 2017

March 17, 2017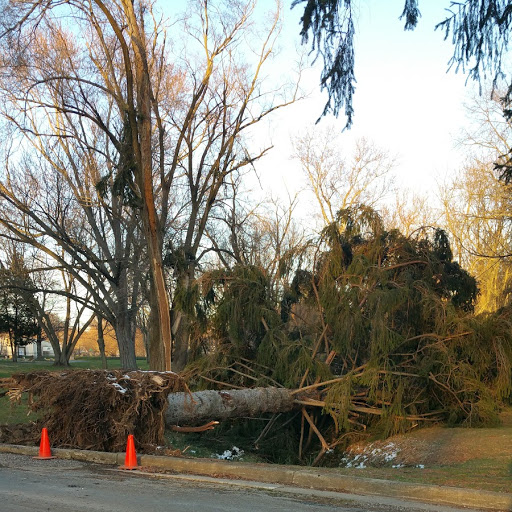 The March 1st tornado and winds hitting the east side of Niles also caused a large pine tree along Silverbrook Creek to fall in our cemetery. It was located on Hamilton Drive, which is the main roadway into the cemetery, crossing the creek. The tree was on the left hand side of the road. Cemetery employees have removed the downed tree.
Details

Published: September 5, 2016

September 5, 2016
We do have owls here in Silverbrook Cemetery.  Jim Meyer from Halbritter Funeral Home spotted one perched on top of a monument recently. 
Details

Published: July 18, 2016

July 18, 2016
Click the picture below to see an album of photos taken this past Memorial Day at Silverbrook Cemetery.
Details

Published: June 3, 2016

June 3, 2016
This year, Silverbrook Cemetery was pleased to have Phil Hurlbutt and Peg Maiers from The Flower Cart join the American Legion Post 26 Memorial Day Ceremony in front of the Mausoleum at Silverbrook, representing The Memorial Day Flower Fund, a new nationwide program which donates red roses to cemeteries across the nation for families to place a free red rose on a Veteran's grave. Across the United States, 300 retailers and organizations participated in and donated to the Memorial Day Flower Event. The City of Niles, The Friends of Silverbrook, and all local citizens who attended would like to thank Phil and Peg for bringing this new program to Silverbrook Cemetery. The red roses were beautiful, and meaningful for all the families who participated in this year's ceremony. This year at Arlington National Cemetery, 200 volunteers handed out and placed 140,000 roses on graves in Arlington, VA. What a nice gesture to honor our Veterans.
Click here to see more photos from Memorial Day 2016 at Silverbrook Cemetery.