Monthly Meetings
The Friends of Silverbrook Cemetery meet the third Thursday each month at 7 p.m. at the Niles Law Enforcement Complex, located at Main St and Silverbrook Ave.
In addition to discussing progress made with our restoration and education projects, we feature a Guest Speaker. Past speakers have given talks about the history of Niles, gravestone restoration, and biographies of leading citizens. Many of our members also have interests in genealogy and local history. Members, nonmembers, and guests are always welcome to attend at no cost.
Details

Published: September 14, 2017

September 14, 2017
Due to scheduling conflicts and vacations, there will be no September monthly meeting of the Friends of Silverbrook Cemetery.
Please watch this space for the meeting in October.
Thank you.
Details

Published: April 28, 2017

April 28, 2017
With spring upon us and summer coming right next, you might be coming out to Silverbrook Cemetery to prepare and clean up your family's graves. Or you just might be taking a lovely walk through our historic property. As you do, keep an eye out for our United States Flags that might be remaining from last year. Although these flags could be still in their upright position, they may be looking tired, torn and worn. Or some may be lying in the dirt, having gotten caught up in the winds from the storms this spring.
The Friends of Silverbrook Cemetery, along with the Rebecca Dewey Chapter of National Society Daughters of the American Revolution, is asking that you gather your old flags so they can be properly disposed. If you see worn out flags in the Cemetery that are not on your family's grave site, please inform the cemetery office so that one of the city employees can gather them during their regualar maintenance.
You can deposit your old flags in the receiving tub at Niles City Hall at 333 N. 2nd Street and allow the Rebecca Dewey Chapter to properly retire your flags. The Chapter can be contacted at www.dewey.michdar.net.
For more, click here to see a full interview with Kat Alton on WSBT-TV.
Details

Published: March 17, 2017

March 17, 2017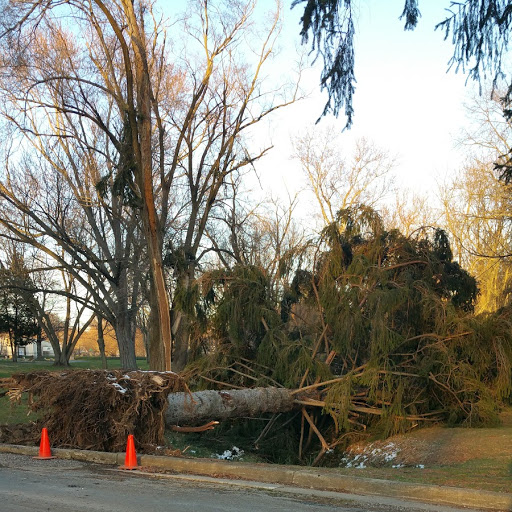 The March 1st tornado and winds hitting the east side of Niles also caused a large pine tree along Silverbrook Creek to fall in our cemetery. It was located on Hamilton Drive, which is the main roadway into the cemetery, crossing the creek. The tree was on the left hand side of the road. Cemetery employees have removed the downed tree.
Details

Published: September 5, 2016

September 5, 2016
We do have owls here in Silverbrook Cemetery.  Jim Meyer from Halbritter Funeral Home spotted one perched on top of a monument recently.